A Q&A with Pang, talking all things Women in Tech
Zengenti marketing team
16 Aug 2019
It's no surprise that technology is one of the fastest growing industries and is always on the lookout for enthusiastic graduates. But it isn't always the first choice of career for female graduates. In fact, did you know that only 17% of those working in Technology in the UK are female?
This summer, we welcomed Pang to Zengenti HQ. Pang is currently studying Computer Science alongside Maths, Further Maths, and Physics at the University of Bath. While at university, she's the webmaster of the Women in Technology society, which is a community to support female students who are passionate about tech. Pang is also a peer mentor and a Code First: Girls instructor. In her spare time, if she's not frantically trying to keep up with all of the latest technological advancements, she enjoys playing badminton, tennis, and loves to paint.
Over the last few months, Pang has been working with our product team and learning what goes on behind the scenes of our Contensis CMS. She's been involved in fortnightly sprints and even helped build a pizza oven as part of our Lockdown event this year.
We thought we would do a Q&A to find out a little more about Pang's journey into the technology sector and address the taboo subject that is Women in Tech.
So Pang, tell us what was it that first attracted you into the tech sector?
Growing up, I have seen how technology has changed and shaped our lives. And I have always thought that the people who invent, create, and develop these high-tech devices are so talented and impactful and wanted to become like them.
My first hands-on experience was when I was in Year 10 and got a chance to learn Python. This may sound a bit strange, but as I was learning to code, I felt at home. While messing around with my programs, I did a lot of logical thinking, which was nice because I do like logical things. But at the same time, I also got to think about the different ways that I could approach problems and use a bit of creativity as well, which was a lot of fun. One thing led to another and I've become obsessed with tech ever since.
So, it was all down to being exposed to Python in Year 10 that led to you wanting to pursue a career in technology?
Yes and because being in this field, I will never stop learning. There is always something new and exciting to know about and keep me on my toes. It can get so frustrating when things don't work out the way you want them to. But the satisfaction that I get when I finally find a solution to a problem is so rewarding and rather addictive.

I also feel that, because the world is so technology-driven now, being in this sector will give me tools that I can use to make an impact on our world.
With 'tech' being such broad subject, are there any areas that particularly interest you the most?
That is actually a really difficult question because there are so many fascinating areas in tech and more and more are emerging as we speak. However, I do pay particular attention to cybersecurity. I like to think of technology as a double-edged sword; it can make our lives easier but some bad guys can also take advantage of it. So I do think that cybersecurity is essential and so important because it plays a big role in whatever piece of technology you may be involved in.
Other than your work experience at Zengenti, have you gained experience from anywhere else?
I am a big fan of self-learning and I have exploited a lot of online resources. I have had part-time jobs in both tech and non-tech related areas before and the skills I have learned from both are so invaluable and integrable. I spent last summer working for IT services at my sixth form where the work was mostly concerned with hardware. I have also gained experience from attending summer schools.
I would totally recommend young people who are curious about technology to check out technology summer schools which are offered by different institutions and organisations.
What have you enjoyed most whilst working at Zengenti this summer?
I have enjoyed so many things and it's impossible to just pick one. The working environment is absolutely brilliant with everyone being so friendly and willing to help. I have been working in the product team and I love how the team has got me involved in real tasks and enabled me to apply my skills and provide some value. The scrum framework is something that I have used before in a group project in my first year of university. But seeing it being used here has allowed me to understand it more and has shown me the benefits that it can provide in a professional setting.
I also loved every minute of Lockdown! It really showed the great company culture that exists here and emphasised on the importance of teamwork and how everyone who works here is an important part of the company. The company lunches also deserve an honorary mention as well.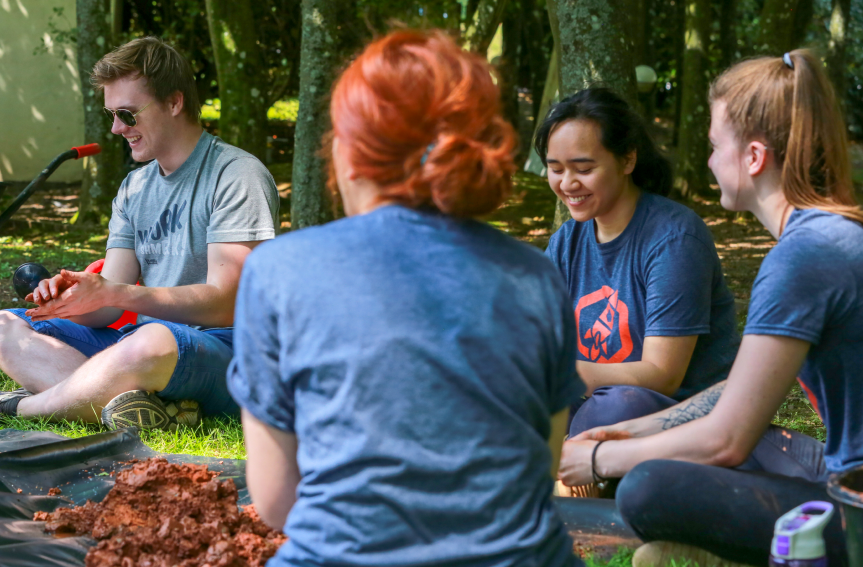 We're so glad you've been able to get stuck in here both in the product team but also at Lockdown. Do you find there is a stereotype that a career in technology is just for men? Did this put you off in anyway before you decided to study?
To answer the first question, yes, absolutely. When I was choosing my GCSE options, computing was my top choice. But then the subject teacher at the time asked, instead of encouraging me, if I was sure I wanted to do it because I would be the only girl in the class. Frankly, that made me even more determined to do it.
Yes, go Pang – girl power! Have you got any future aspirations of where you would like to work in the future?
A good workplace culture and values at a workplace are very important to me. I feel that if I fit well with the company culture, I will be able to produce the work to the best of my ability and the company will be able to get the most out of me. A supportive working environment is an important factor.
We agree, being supported is a must within a company's culture. It's great to see that you are webmaster of the Women in Technology (WIT) society at the University of Bath, what encouraged you to join?
I first heard about WIT on Facebook where they were advertising a tea and cake welcome talk to freshers. At that point, my main focus was the cake. However, when I actually went there, I met so many amazing, lovely women in tech. The speed dating activity – where we went off in pairs, had a couple minutes to talk to each other, then rotated until everyone got to talk to everyone – gave us an opportunity to talk about our own experience and passion in a really fun way. I thought it was such an amazing community to be in and decided I would join in and keep up with all the events that the WIT committee would be running throughout the year.
What's your favourite part of the WIT community?
The BCSWomen Lovelace Colloquium was my favourite WIT event this year. It was such an amazing experience to get to meet other women in tech from all over the country. The panel speakers were also very inspiring and hearing them talk about their journeys in the industry really fascinated me. A lot of people from different tech sectors were also present at the event so that the finalists could explore the different areas of technology. It was such a wonderful event to meet like-minded, yet very different people from a range of backgrounds.
What would you say to a female wanting to start a career in tech but who may be on the fence?
If tech is something that you are passionate about, absolutely go for it. If you feel sceptical about being in this male-dominated industry, there is a lot of support communities such as WIT. But at the end of the day, people in this field will be as passionate about technology as you are, so don't be scared; just have fun and enjoy yourself.
That's sound advice, thank you!
It's been a pleasure to have you at Zengenti HQ, Pang. We wish you all the best for your continued studies at the University of Bath!
Our software and services help some of the largest organisations in Europe to manage their websites. We're creative, honest, and proud of our work. We also like to have fun along the way. If you'd like to join us for work experience, drop us a line to enquiries@zengenti.com. We'd love to hear from you.